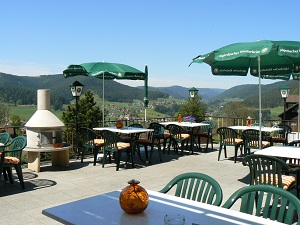 Our guesthouse "Talblick" (bed and breakfast) is located to the edge of the forest in rural Baiersbronn. You have a unique view to the surrounding hills and the Mürgtal.
On the terrace of the flat roof you can relax en enjoy a delicious breakfast , but a good glass of German wine as well. You can have your dinner in one of the several hospitable small restaturants in the surrounding.
WiFi is available in the bar.
There are enough parkingplaces next to our pension. Ofcourse motordrivers are also very welcome. You can park your car or motor in one of our garages (when reserved before).
Let the Black Forest surprise you by its many-sideness. Here you find rest, space, sloshing streamlets, romantic villages, in short all you can think of for endless enjoyment.
We take care for unforgettable holidays in a natural sphere and we look forward to your arrival here.
Van der Stelt-De Mots Family